Bael Fruit Seeds ( Aegle Marmelos )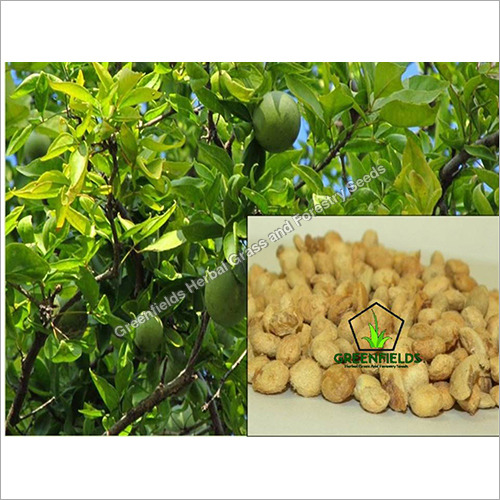 Bael Fruit Seeds ( Aegle Marmelos )
Price And Quantity
Kilograms/Kilograms

700 INR
Product Specifications
Product Description
Bael Fruit Seeds ( Aegle Marmelos )
Bael Seeds
Scientific Name: Aegle marmelos
Shape: Round
Size: 0.2-0.3cm
Color: light yellow
Usage: Germination (not for oil extraction)
Age: Fresh(less than a year, good for germination)
Origin: India
Packing: 5, 10,20,25,50 (P/P)
Availability: Throughout the year
Category:- Fruit Seed
Details :

Common name: Bengal quince, golden apple, stone apple, wood apple
Hindi Name : Bahera
Botanical name: Aegle marmelos
Family: Fabaceae
Bael (Aegle marmelos), also known as Bengal quince, golden apple, stone apple, wood apple, bili, is a species of tree native to India. It is present throughout Southeast Asia as a naturalized species. The tree is considered to be sacred by Hindus. Its fruits are used in traditional medicine and as a food throughout its range.
Fruit
The bael fruit has a smooth, woody shell with a green, gray, or yellow peel. It takes about 11 months to ripen on the tree and can reach the size of a large grapefruit or pomelo, and some are even larger. The shell is so hard it must be cracked with a hammer or machete. The fibrous yellow pulp is very aromatic. It has been described as tasting of marmalade and smelling of roses. Numerous hairy seeds are encapsulated in a slimy mucilage.
Uses
The fruit is eaten fresh or dried. If fresh, the juice is strained and sweetened to make a drink similar to lemonade. It can be made into sharbat (Hindi) or Bela pana or bel pana, a refreshing drink made of the pulp with water, sugar, and lime juice, mixed, left to stand a few hours, strained, and put on ice. One large bael fruit may yield five or six liters of sharbat.
Medicinal uses
Research has found the essential oil of the Bael tree to be effective against 21 types of bacteria. It is prescribed for smooth bowel movement to patients suffering from constipation and other gastrointestinal problems.
Research also indicates that unripe Bael fruit is effective in combating giardia and rotavirus. While unripe Bael fruit did not show antimicrobial properties, it did inhibit bacteria adherence to and invasion of the gut (i.e. the ability to infect the gut).
Related Product:

1. Anola Seeds,

2. Sitaphal Seeds,

3. Guava Seeds,

4. Bael Seeds,

5. Vilayati Imli Seeds
6. Imli Seeds